News
May 2013
Fibromyalgia Awareness Day is on 12 May
So what is Fibromyalgia? The word itself is derived from pain (algia) coming from the muscles (my) and fibrous tissues (fibro) such as tendons and ligaments, but most people with Fibromyalgia also have other symptoms in addition to the pain, therefore, Fibromyalgia is sometimes called Fibromyalgia syndrome (FMS). It is a chronic (persistent) condition. It does not affect the joints because it is not an arthritis.
Because of the kinds of symptoms associated with Fibromyalgia, Hypnotherapy can be really very helpful in dealing with the effects of it - but many people aren't aware of this. Solution Focused Hypnotherapy is a modern, research-based combination of Psychotherapy and Hypnosis, aimed at encouraging clients to focus on how they want things to be. Many Fibromyalgia sufferers attribute reduction in their symptoms to receiving Hypnotherapy, which can help to alleviate or limit their pain symptoms and increase their energy and comfort level. A study conducted by the National Institutes of Health in the USA showed that Fibromyalgia sufferers undergoing Hypnotherapy reported 80% fewer pain symptoms than those who received no Hypnotherapy treatment, and also reported decreased muscle pain and morning fatigue and fewer sleep difficulties, which really helps them on a day to day basis.
To read more go to the Fibromyalgia page
---
April 2013
Depression Awareness Week 2013
This year's Depression Awareness Week is 15th - 21st April 2013. 1 in 5 people will suffer with depression at some time in their lives. One of the key's to changing your low moods and thoughts is to tackle it before it gets really serious. Solution focused Psychotherapy can help someone see the light at the end of the tunnel and to help people notice when small improvements are made. If the depression is the result of high stress or anxiety, then hypnotherapy can help start the process of control and changing responses to the stressors.
For more information read up on pathology of depression
---
March 2013
From April I shall be working from clinics in Oxford and Reading. Please contact me if you'd like a chat to see how I can help.
---
February 2013
New Magazine available for the public, to celebrate how great solution focused hypnotherapy is.
---
Health care schemes now accept hypnotherapy
Organisations such as Health Shield, Simply Health and a number of specific employer plans with Westfield Health will pay for therapist's time if like myself, they are registered with the Complementary and Natural Healthcare Council.
That's great news for many people out there who would like to use their private healthcare plans to contribute to every aspect of their health.
---
January 2013
New Book on driving fear out
In 2011 I was interviewed by Joanne Mallon about my driving phobia and how I overcame it - the book is now out and Gemma Briggs recently interviewed me regarding it.
If you have trouble driving, then make an appointment today on 07508 658934.
---
December 2012
Happy Christmas and New year - as well as working up to Christmas I'm currently designing a new publication, watch this space.
---
November 2012
Lung cancer in women set to rise 35 times faster than men by 2040
The latest report from Macmillan cancer support is that the number of women living with lung cancer will set to rise to around 95,000 by 2040, that's four times more than currently, and their long term survival rate will be considerably less than men. Funding for lung cancer research is considerably smaller than breast cancer research despite lung cancer killing more women.
If you are a smoker and want to increase your chances of living a longer, healthier and fulfilled life then giving up would help considerably. Smoking contributes to depression, cancer of the liver, mouth, throat and lungs, heart problems and increases the risk of a stroke considerably.
Hypnotherapy can help you give up, if you've had hypnotherapy before you a one off two hour session may all that's needed, for those who haven't then I offer first a relaxation session to get you used to the process, before a week later carrying out the stop smoking session. See more on Stop Smoking page
November 7th is Stress Awareness Day
Latest research suggests that age related diseases occur at different rates in different individuals, and 'psychological distress' appears to be an important factor in how quickly the onset of diseases occurs.
Research suggests that individuals can help themselves by reducing their perceptions of stress, along with increasing healthier behaviours, such as sleeping better, drinking less, and stopping smoking. These changes may promote subtle but important improvements in premature cell ageing.
In addition, hypnosis may contribute to stress reduction and health promotion. A study in 2010 showed that during and after a hypnosis session, heart rates were reduced and breathing rates were lower. So the state of relaxation induced by hypnosis could well be beneficial and lead to stress reduction, thereby minimising the risk of premature ageing.
For more information go to Stress Management
---
October 2012
October 10th 2012 is World Mental Health Day which raises public awareness about mental health issues and aims to promote a discussion around the issues including investment in prevention, promotion and treatment services.
See Press release for more details
October is Stoptober - yes the NHS are leading the way in encouraging people to give up smoking. But do you want to resort to patches, gum or drugs? It looks like they are beginning to come round to the idea that what drives the smoking behaviour is more psychological than physical - they give you a squeezy toy to relieve stress. I am of the opinion a squeezy ball is as much use to stress reduction as a sweet cigarette is to giving up smoking.
See my Stop Smoking Page first
---
September 2012
September 10th - 16th - Know your numbers week
Hypertension (high blood pressure) causes up to a quarter of all deaths worldwide and affects around one in three people. That's over 16 Million people out of 61 million in the UK.
Worryingly, around half of people are unaware that they have high blood pressure as there are no obvious symptoms half the time. The creators of the Hypnotension programme are urging people to get their blood pressure checked as part of the Blood Pressure Association's annual 'Know Your Numbers' awareness week.
You can get your blood pressure measured at your local GP practice, health centre or pharmacy.
Consultations for Hypnotension are FREE for the whole week.
---
August 2012
Procrastination is the thief of time - Do you delay doing things? Listen to Radio 4, 28th August at 11am or go to BBC website. Her psycho analyst said it stems back to childhood, well they would say that. It is often down to lack of awareness, anxiety and low confidence that procrastination creaps into our lives.
Assessing our values and coming up with a more mindful discliplined approach can help us crack it.
There is something in hypnosis say research scientists - phew that's good news, at last it isn't the bad boy of talking therapies. See the Guardian for more details.
---
July 2012
Phobias can make you look older
Humans are often after the key to looking younger, but recent research suggests that if you have a phobia, you're body is biologically equivalent to someone 6 years older who does not have a phobia.
The researchers at Brigham and Women's Hospital in Boston examined blood samples and survey results from 5,243 women ages 42 to 69 and those with the highest levels of phobic anxiety had Telomeres - biological markers - of women who were six years older. The findings were published online July 11 in PLoS ONE.
As we age, our telomeres shorten naturally. Scientists suspect this shortening results from exposure to oxidative stress and inflammation. Having shorter telomeres for one's age, can up the risk for heart disease, cancer and dementia.
National Childhood Obesity Week - July 2nd - 8th
There can be many reasons for children to become obese, sometimes it can be a poor diet, sometimes it can be the child refusing to eat healthily. The problem is best tackled young so it doesn't become a real health risk later on, especially if it's related to emotional eating.
Special Offer until August 1st - 4 sessions of Weight loss hypnotherapy for £120
Where you can learn about the connection between stress and obesity. There is one hormone connecting stress and obesity and that is cortisol. elevated cortisol levels, leads to a disturbing list of causes and effects such as increased appetite and enhanced fat storage equals obesity. Other health conditions similarly impacted include heart disease, Alzheimer's disease, depression, infections, anxiety, diabetes – all with links to cortisol induced metabolic issues.
Insulin is a hormone that regulates blood sugar; it is sometimes thought of as a "storage" hormone because it helps the body put all these great sources of energy away in their respective places for use later. One of the first signals the body must send out - via cortisol - during periods of stress is to stop storing energy as you need to use it now. Telling the body's cells to ignore insulin on a regular basis, as happens with chronic stress, can lead to a condition known as insulin resistance and predispose a person to the development of full-blown diabetes.
Stress causes weight gain mainly because of an excessive secretion of cortisol, along with a reduced secretion of anabolic hormones, such as DHEA (Dehydroepiandro sterone), testosterone, and growth hormone - a nasty combination which causes the body to store fat, lose muscle, slow metabolic rate, and increase appetite.
Overall, stress makes us burn fewer calories, consume more food - especially carbohydrates – which when not burnt, quickly convert into fat frequently in the abdominal area, which is closely associated with heart disease, diabetes, hypertension, and high cholesterol.
See the Offer Page for further details.
---
June 2012
Rid yourself of that fear of flying
Going on holiday abroad this summer? Afraid of flying? Do something about it now! - generally only 4 sessions needed so make sure you book them now, so there's one less thing to worry about on holiday.
See Fear of flying page for more details
Diabetes week is 10th - 16th June
One of the more serious complications of type 2 diabetes is hypertension or high blood pressure. Hypertension affects nearly 70% of patients with diabetes and is twice as likely to occur in people with diabetes as in those without diabetes. With those who suffer from type 2 diabetes the news is even grimmer. It is estimated that 40-50% of all people with type 2 diabetes have arterial hypertension which means a blood pressure greater than 160/95 mm/Hg.
Adults who have both type 2 diabetes and hypertension have a greater chance of developing kidney and coronary heart disease, making it even more imperative that these individuals get their blood pressure checked often. Diabetes Week starting on 10th June is the perfect time to check in on that pesky blood pressure.
---
May 2012
World Hypertension Day
Hypnotension practitioners around the world are preparing for World Hypertension Day on Thursday, May 17 2012. World Hypertension Day is an annual worldwide reminder of the serious risk high blood pressure poses to people around the globe. See page for more details.
Hypnotherapy works for stop smoking
Latest research in the States has suggested Hypnotherapy can be used for smoking cessation.
The findings, reported in the American Journal of Medicine, come from a review of 14 previous clinical trials of acupuncture and hypnosis.
In four trials of hypnosis, smokers had a higher quit rate with the therapy compared to people who had minimal help
They suggested that smokers who want to quit should first try the standard approaches such as medications and nicotine replacement, but some people are not interested in medication, and in many other cases, the standard quit therapies do not work.
This is a great boost to hypnotherapists, who like myself have helped countless people become non-smokers but have not been taken seriously only because it's been largely ignored in research. Again this is partially because research has been in the past funded by the drugs companies who make the drugs.
---
April 2012
Announcement
- I can see clients from the Faringdon Clinic - 4 Salutation mansions, Faringdon, from now on, on Wednesday afternoon, 5pm.
---
March 2012
Horizon Tue 20th March is about hormones that effect hunger, this is something we have been aware of for some time. Dr Carel Le Roux, of Imperial College and King's College Hospital in London, studies obesity and the role the brain takes in helping us to make the right or wrong decisions about food consumed.
Obese people had increased brain activity in the orbital frontal cortex, which is the region of the brain associated with rewards, Reward systems are part of the subconscious which helps humans find food, procreate and motivates them to work together, however it can get it wrong by getting the same response from alcohol, drugs and certain foods.
Doctors have found that drastic gastric surgery can change the way the brain engages in this process, so Dr Le Roux is looking at ways to do the same without such drastic measures.
One way we as solution focused hypnotherapists help those with the same problem, is by reducing stress, so quietening down the limbic system, so the pre-frontal cortex has a better chance of making the right decisions. Also being mindful, you can ask yourself that the hunger feelings are nothing more than thirst or messages coming up from the stomach. Although these may feel distressing at times, you can learn to override the system by intelligence and distraction.
---
Solution Focused Coaching, Mentoring, psychotherapy and Hypnotherapy now available in Longcot in Oxfordshire
Now able to offer my services to those in the Vale of the White Horse, Swindon, Shrivenham, Faringdon, Wantage and the surrounding area.
---
February 2012
Just become a registered Hypnotension practitioner - this new scheme has been put together by members of the NCH to help those who have been diagnosed with high blood pressure.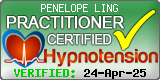 20-26 February 2012
Eating Disorders Awareness Week. The awareness week is organised by the charity b-eat who provide information, advice and support to people suffering from eating disorders like anorexia and bulimia.
Eating disorders often develop when food is used to cope with emotional problems, like feeling bored, unhappy, ashamed or lonely and are often triggered by stressful situations.
And it's important to know that while eating disorders are most common in young women, they can affect both men and women of any age.
20-26 February 2012
OCD Week - It's not easy to define obsessive compulsive disorder - but the condition mainly refers to an individual who experiences repeatedly disturbing thoughts and compulsions.
Some of these compulsive fears can be related to germs and dirt, while others will be more aggressive. These might include thoughts about harming loved ones or a fear that household appliances will cause a fire and so on.
Although there are different OCD disorders, each have something in common: they are all distressing, frequent and difficult for the person affected to control.
For more info go to OCD Action
---
January 2012
How long do your New Year's resolutions last?
How long do your New Year's resolutions last? Hypnotherapists often report an increase in enquiries during March and April when people's commitment to New Year's resolutions has worn off. Many turn to Hypnotherapy to help them lose weight, give up smoking or achieve other important goals.
Part of the problem, is that people tend to focus on external outcomes without addressing what's going on inside.
Weight management is a classic case in point. Some people think that once they lose weight they will be happy. They struggle with various diets and lose heart when the weight piles on again. The chances are, they are struggling with internal issues that need to be dealt with before they can take control of other aspects of their lives, such as their relationship with food, stress, work, money or family.
Solution Focused Hypnotherapy helps people to regain control by helping them to focus on how they want things to be – their preferred future, rather than focusing on the problems. The therapy uses Solution Focused questioning techniques designed to help clients develop a clear vision of how they want to be.
Typically if I ask a client to tell me how they want to be, they will give me a list of what they don't want – I don't want to be overweight, out of breath when I walk, staying indoors because I'm not confident going out.
It's my job to help them describe what they do want instead – full of energy, feeling healthy, slim and confident. The difference is profound. Hypnosis helps to reinforce the positive image the client has developed.
It's wonderful to see the transformation people can make to the quality of their lives, once they stop focusing on problems and direct all their energy towards thinking positively instead. And the great thing is that, because the client has addressed their internal thought processes, the changes are usually long-lasting. Unlike typical New Year's resolutions.
---
December 2011
Stress can cost you your job
Work Stress –a valuable resource for Stress Management has said that even mild stress has been proven to lead to people being unable to work. Research carried out by the University of Bristol and the Karolinska Institute in Sweden reveals that even mild stress increases the chance of someone being on disability payments for physical problems by 70 per cent and more than doubles the likelihood they will have a psychiatric condition.
They found a strong relationship between increasing levels of psychological distress and the likelihood of being awarded a new disability pension within five years. One in four benefits for physical illness, such as high blood pressure, angina and stroke, and almost two-thirds for mental illness, were attributable to stress.
They say the link between stress and a diagnosis of a physical problem may be down to the way stress affects the body – we know for example that the more stressed we are the more sensitive to pain we become, or start to feel helpless and leads us down the long spiral to depression. But they added it could also be that stigma surrounding mental health issues leads some doctors and patients to prefer a physical "label" for the problem.
The TUC states that the single biggest cause of stress includes:
low job satisfaction

overwork

poor management

bullying

pace of work

job insecurity

new ways of working

Unfortunately the most a doctor will do is prescribe anti depressants, sign you off for a fortnight and maybe suggest a 6 session course of CBT. OK for some but in the last 18 months I have seen a big increase in people coming to see me that have had CBT and say it hasn't done anything to help.
I have been in this situation myself 10 years ago, and the stress was making me physically ill, 5 sessions of hypnotherapy and learning how to meditate were the only things that helped me through it. Don't wait until it gets that bad.
---
National Anger Awareness Week 1st - 7th December 2011
Anger is a negative emotion, that most of us don't enjoy experiencing and more importantly it can impact on others.
Not being able to deal with frustration, not findng a way through problems can hamper our relationships, our careers and our happiness.
National Anger Awareness Week encourages everyone to prepare themselves with simple coping strategies to create an atmosphere of calm and cooperation. Hypnotherapy can help deal with those difficult emotions.
National Anger Awareness Week is all about learning to take control of your behaviour. Everyone feels angry at some time; what matters is how you express that anger.
---
November 2011
My heart goes out to all those effected by the M5 crash that happened on Friday night, not far from us in Somerset. Having had trauma caused by a number of incidents that happened over years on motorways, I was unable to drive because of the distressing flash backs that occurred. Thankfully I was able to dilute these thoughts until they have become memories without the emotions attached. I would hope that anyone who is having problems, either with flash backs, sleep, or worrying about motorway travel, to seek help - you don't have to suffer it alone. It looks like it was a tragic accident - smoke from a bonfire - I hope lessons will have been learnt and everyone can move on.
---
2nd November is National Stress Awareness Day, and to celebrate - if you can celebrate such an event - I'm offering 2 special offers.
1 hour relaxation sessions for only £40
or
a 2 hour stress management sessions for £80
where you can learn about the brain, stress and find ways to manage and overcome it, plus relaxation and a free CD.
---
October 2011
The National Council for Hypnotherapy are warning how an online hypnotherapy directory could be damaging the livelihood of hypnotherapists. The website is a commercial adventure, and is not endorsed by any of the governing bodies, much like traditional paper directories. By charging hypnotherapists a great deal to go on this site and asking for links in return they are coming top of Google and driving down the results of real therapists. To find a properly qualified hypnotherapist please go to one of the governing bodies such as the NCH, or the ASFSH. These provide free listings to all fully qualified hypnotherapists, and so you are much more likely to find someone more reliable.
7th October 2011 is World Smile Day. We known from research that just the physical process of smiling can help increase the amount of the positive neurotransmitter in the brain called Seratonin. Seratonin helps us to maintain a positive well balanced outlook in like and is one of the important chemicals in the combat of depression. Do an act of kindness - Help one person smile.
12th October 2011 is World Arthritis Day. Coming from a family of a severely disabled father and grandmother from Arthritis, this subject is close to my heart. My father had his first hip replacement when he was only 45, now 76 he has had a total of 4 operations. My grandmother had to live in one room for 7 years because she could not make the stairs and we could fit a downstairs toilet in the house we lived in in London. What I know about self hypnosis and pain has helped me at times when I have suspected that I may too eventually succumb to this disease. Hypnosis can help with coping, as stress and depression are associated with the disease.
---
September 2011
OPEN DOORS DAY BRISTOL at the Harbourside clinic is being celebrated by taster sessions on Saturday 10th September 10am-4pm. Come along to see the therapists, buy one of my relaxation CDs and all takings for the day will be donated to Childrens Hospice UK.
4th-10th September Both migraine awareness and Fibromyalgia awareness week. Hypnotherapy can help reduce the stress these conditions produce. Although with Fibro, it does not cure, I have seen clients with Fibro who have found that hypnotherapy makes them feel calmer and so they don't have so many flair ups.
---
August 2011
We're looking at Gut Week 2011 (22-28 August) by highlighting how therapy can help clients cope with the symptoms of IBS (Irritable Bowel Syndrome).
According to the organisers of Gut Week, about a third of the population experience IBS at some time in their lives. The condition affects the large bowel and symptoms might include abdominal pain and spasms, diarrhoea, constipation, bloating and excess wind. It can also involve an urgent need to visit the toilet and even incontinence if you don't get there in time.
In 2008, NICE published guidelines for GPs for the diagnosis and management of IBS. Once diagnosed, the guidelines recommend 12 months of traditional treatments ranging from dietary advice through to anti-diarrhoea or anti-constipation medications as appropriate, or even low dose antidepressants to reduce pain and spasms. If the IBS has not responded to this treatment, it is classed as 'intractable'.†
In such cases, NICE recommends Hypnotherapy as an option to help the condition. In fact there are a small number of Hypnotherapists specialising in IBS working within NHS hospitals. According to the NHS on-line portal, NHS Choices, which offers information about how to make choices about your health:
"Hypnotherapy has been shown to help some people with IBS to reduce their symptoms of pain and discomfort... You can have Hypnotherapy as an outpatient in some NHS hospital pain clinics, or you can learn self-hypnosis techniques to do at home."
Dr Roland Valori, editor of Frontline Gastroenterology, said of the first 100 of his patients treated, symptoms improved significantly for nine in 10. He said that although previous research has shown Hypnotherapy is effective for IBS sufferers, it is not widely used. This may be because doctors simply do not believe it works.
IBS is more common in women than men and may be aggravated by stress and life changes. Hypnotherapy can help to alleviate symptoms often by addressing the underlying anxiety.
---
July 2011
Fragmented sleep effects memory - BBC News, which is one reason I give CDs out to help get people sleeping again, to help cope with their problems. A good 65% of my clients have some sort of sleep related problems, and many report an improvement with their sleep as they progress with therapy.
At the same time Scientific American Mind says "Dreams seem to help us process emotions by encoding and constructing memories of them. What we see and experience in our dreams might not necessarily be real, but the emotions attached to these experiences certainly are. Our dream stories essentially try to strip the emotion out of a certain experience by creating a memory of it. This way, the emotion itself is no longer active." see more at: The Science behind dreaming.
---
June 2011
Finally the NHS has come out and admitted that Hypnotherapy has a place within the NHS. Many doctors now acknowledge that it works well for pain management and conditions such as IBS because it helps with the anxiety that is associated with them.
Dr Peter Naish, president of the Royal Society of Medicine's hypnosis section, says the NHS could save money and serve patients better by treating some serious conditions with hypnosis. Pointing out that research has found it's much more than a placebo, as frequently cited by non specialists. To hear a radio interview with Dr Naish go to: The BBC radio interview
He rightly points out that there are many hypnotherapists out there with no medical training, see my section on choosing a hypnotherapist to see what the letters after the name represent.
ALSO:
View the BBC story on Hypnosis should become a standard technique on the NHS to treat a range of conditions according to a new report.
---
May 2011
The NHS are to investigate the effectiveness of Hypnobirthing - at last some proper research, so someone's taking notice. Watch the BBC report 23 - 30 May 2011
Mental Health Awareness Week - the Mental Health Foundation work with people and organisations throughout the country to help raise awareness of mental health and wellbeing issues. This year the focus is on sleep - see my page on Sleep to understand more
MIND too are getting in the act with Taking care of business - mental health at work. 1 in 6 workers experiences depression, anxiety or stress every year, presenteeism for example can cost UK businesses up to £15.1 billion a year.
70 million working days are lost every year due to mental ill health, with 10 million working days directly caused by work-related problems.
Staff turnover as a result of employees leaving their jobs due to mental ill health costs £2.4 billion.[figures from MIND]
a few years ago I helped an HR department help reduce their absenteeism in a call centre in Clevedon, call 01275 854354 if your company would benefit from a free assessment.
Asthma Awareness Week is 9-15th May 2011.
Hypnotherapy can help clients cope with the condition by reducing their levels of anxiety.
According to Asthma UK, a charity dedicated to improving the health and well-being of people whose lives are affected by asthma, 5.4 million people in the UK are currently receiving treatment for asthma: 1.1 million children (1 in 11) and 4.3 million adults (1 in 12).
There is an inter-relationship between anxiety and asthma – for some people, anxiety can be a trigger for asthma, for others it is the asthma itself which causes anxiety. After all, there are few things more frightening than struggling to breathe. The link between anxiety and asthma can lead to an unhelpful cycle of cause and effect which can be difficult to break.
In fact some of the symptoms of a panic attack (hyperventilation) and asthma overlap making it difficult to distinguish between the two. In some cases, a panic attack can actually lead to an asthma attack in someone who already suffers with asthma.
See Press Releases for more details.
9 - 15th May is also National Stop Snoring Week
Hypnotherapy cannot cure snoring, but as sleep is a very important part of what we do, read my page on sleep and if you snore - get something done about it. If your snoring is chronic you may be able to get a CPAP machine on the NHS.
---
April 2011
April is National IBS awareness month. IBS effects between 9% and 23% of the population at any given time. If you think you have IBS then you must get your GP to carry out tests, to eliminate anything else.
For NICE guidelines on IBS go to: NICE website
April is also launch month of the Association for Solution Focused Hypnotherapy. As a committee member and supervisor, I hope that this new association can help support other solution focused hypnotherapists and inform the public about what we do and why it's so different from traditional hypnosis. Go to:AfSFH website for more details.
---
March 2011
March is National bed month, which highlights the importance of having a good bed and getting good sleep.
Did you know that snoring can be dangerous? Sleep apnoea, can increase the stress hormones in the body and cause damage to your heart, and you could fall asleep when driving. Not only that it often stops your partner from proper sleep which can lead to anxiety, depression, insomnia and bedwetting*. See Sleep Apnoea Association
*Bedwetting is a sleep disorder - caused by sleeping too deeply, and not waking in time - see page.
March 9th 2011 is National Stop Smoking day, If you have had hypnotherapy before then you can book a one off 2 hor session, for those who have never experienced hypnotherapy, I offer 2 sessions, the first being just relaxation, so you can get used to the idea before embarking on the actual stop smoking session a week later. Call for an appointment.
---
February 2011
Friday 04 February 2011 - 10 February 2011 is 'Tinnitus Awareness Week'
The British Tinnitus Association will be highlighting the valuable support service it provides and hopes to raise awareness of the freephone helpline, 0800 018 0527, and website, www.tinnitus.org.uk
There are no cures for tinnitus, but you can learn to manage it, and hypnosis can help reduce the anxiety and help get off to sleep.
Hypnotherapists provide support during Eating Disorders Awareness Week
A new Hypnotherapy Association is marking Eating Disorders Awareness Week (EDAW) 21 – 28 February by highlighting how the therapy can help clients deal with the emotional issues that often underlie these debilitating conditions.
For more information see the Weight Loss page.
Back In the News
February started off well with the CNHC highlighting their campaign to bring attention to the public the importance of self regulation and awarding recognition to those like myself who have undergone extensive training and adhere to strict rules of conduct and measure outcomes, which all helps in keeping the practice professional.
Thanks to the North Somerset Times in publishing the article the CNHC provided for Wednesday 2nd Feb.
---
January 2011
Launch of new look website
Sunday 23 to Sunday 30 January is National Obesity Week
The aim for the week is to encourage individuals to establish if they are underweight, a healthy weight, overweight or obese. Once identified, those that are not a healthy weight will be encouraged to take action. If you feel your eating habits are not what they could be, feel free to call me for a consultation.
Helpful informative TV
There are some interesting things to watch out for at the moment if you're interested in the brain. The BBC are running a series of programmes, one on the brain and the other the effect of drugs have on us, both although devoid of a lot of real scientific detailing are interesting and helpful. See The Brain - A secret history and How Drugs Work
---
December 2010
I am now qualified as a supervisor in Solution focused supervision SFBT Sup (hyp). Supervision will be based in Reading, See Supervision page for more details.
Also The Neuroscience of leadership shows how we make decisions and what happens in the brain when we are in control.
The areas which reflect solutions focused hypnotherapy are:
Focus is power. The act of paying attention creates chemical and physical changes in the brain.
Expectation shapes reality. People's preconceptions have a significant impact on what they perceive.
Attention density shapes identity. Repeated, purposeful, and focused attention can lead to long-lasting personal evolution.
Scientific American has two interesting features on The heart and brain connection and Does diabetes hamper cognitive function by lowering the brain's cholesterol?
Also - In the States they have found that yoyo dieting causes us stress and that promotes Binge eating. Read more
---
November 2010
November saw National Stress Awareness Day, and I took part in a talk at the Bedminster Family Practice to explain how hypnotherapy can help with Stress.
---
October 2010
New evening sessions at Harbourside Clinic Redcliffe and Oakspring clinic Clevedon, due to deman by clients of more session time out of work hours.
October 10th is World Mental Health awareness day.
Good mental health goes hand in hand with peace, stability and success, and Promoting Mental Health presents a powerful case for including mental health promotion in the public health policies of all countries.
Mental, social and behavioural health problemscan have effects on behaviour and well-being. Substance abuse, violence and abuses of women and children on the one hand, and health problems such as heart disease, depression and anxiety on the other, are more prevalent and more difficult to cope with in conditions of high unemployment, low income, limited education, stressful work conditions, gender discrimination, unhealthy lifestyle and human rights violations.
Mental health for each person is affected by individual factors and experiences, social interaction, societal structures and resources and cultural values.
One in four people in the UK has a mental health issue.
---
September 2010
Hope a number of you watched the BBC Young ones. Not the Rik Mayall version but the 1975 house where a group of famous septaganarienas and octagenarians went to live.
Personnally I don't own a TV but I was able to watch this on a friends. I originally read the results from the very first experiement over 20 years ago and it just goes to show how the mind can produce such amazing results.
---
August 2010
Exciting times ahead for Solution Focused Hypnotherapists - more news and announcements coming soon...
---
July 2010
July has been so busy, with seeing clients, studying for the supervisors course and lots going on behind the scenes with organisational work. Having completed my SFBT for hypnotherapists course and passed, I have now joined the UKASFP.
---
June 2010
Now a Registered member of the NCH, this recognises the fact I have experience and commitment to undergoing further training.
---
May 2010
May 31st is World No to Tobacco day - start to think about giving up before it's too late.
Went and gave a talk at Nailsea Cricket club about sports hypnotherapy. Great bunch of guys and a lovely evening was had. And they won the next day - See their report News of their win can also be read at the North Somerset Times and The Clevedon Mercury.
Mind launches "Taking care of business" campaign - business needs to do more about mental health issues - read more on my blog
---
Relaunch of website 2010...
---
April 2010
Noise Action Week is April 26th - 30th. Noise is number one stressor in a lot of people's lives. Using hypnosis, you can learn to ignore it to a reasonable degree. Erikson slept next to machinery for weeks to get himself conditioned to it.
---
March 2010
March sees National Stop Smoking day print off this special coupon and you could save yourself £20.
---
Feb 2010
Because February is the month of love with St Valentine's day coming up, you'll love the offer of all Hypnotherapy except stop smoking being reduced to £45 per session. Bristol £55.
---
Jan 2010
The cold snap has made it difficult for many businesses across the country, but the news on the recession is brighter this year, so here's to a good year - once the snow has melted. I look forward to seeing members of the various networking organisations and to the Jelly meet ups.
---
2010 - Happy New Year
---
December 2009
I'd like to wish all my clients old and new a Merry Christmas and Happy new Year
---
November 2009
November 4th is National Stress Awareness Day.
As well as this, the NCH are launching an initiative to help Servicemen on returning home after being on active service. I have agreed to paricipate in this scheme in the Bristol and North Somerset area. For more details please read this press release.
---
October 2009
It's just not cricket - I heard them cry! Our cricket club in Nailsea was finding it tough to find sponsors during the recession, so they had a bright idea - to ask local business to enter a draw and the winners would be able to sponsor the team or get free publicity. Well I thought this an excellent way to support the community. As I'm always suggesting to my clients they keep fit, and knowing hypnosis can improve our sport - I jumped at the opportunity (did I say I was a champion high jumper at school - and I used hypnosis to do it!!!). Find out more at http://nailsea.play-cricket.com/home/home.asp?
From the end of October I was going to have a clinic at Tower House Medical Centre in Nailsea, but due to circumstances out of my control that has not happened. So for now it's business as usual.
One great way to help lift yourself out of depression is to join a group of some description. I have joined my local art club in Nailsea so I can meet with like minded people and get to know the community better. I have also joined the Nailsea Chamber of Commerce, for much the same reason. I also attend NRG networking lunches to get me out the house and develop relationships with other business people. We've forgotten as a society to be part of a group. Everything is done in front of a computer these days and despite having Facebook and other social networks, it's the actual interaction with others that keeps all the positive neurotransmitters pumping the good feeling round our brains. So leave this page alone and go find a club to join.
---
September 2009
Introducing Self Hypnosis for childbirth - Pregnancy is a time of great change and some women can find it stressful. There are numerous side effects too, caused by the hormone change that can have an impact too, backache, heartburn, nausea, insomnia, high blood pressure, fear and vivid dreams. Hypnotherapy can help with all these.
September 1, 2009 — Middle-aged people who smoke or have high blood pressure or diabetes are more likely to develop dementia later in life, a new study shows. In an article published online August 19 in the Journal of Neurology, Neurosurgery and Psychiatry, researchers suggest that controlling cardiovascular risk factors in midlife may prevent dementia later on.
---
August 2009
Interviewed on BBC Radio Somerset about motivation. The question being "Have we become lazy as a nation?". My question was "How do you motivate using hypnotherapy?" - The answer is to lower one's anxiety and this allows for the person to be able to use the pre frontal cortex of the brain where we come up with solutions to problems. So in times of recession when everyone is saying "there's no point", we can use our minds to find the means and ways of finding what we want.
---
July 2009<
Successfully recorded my weightloss CD and had a great turn out to my hypnoslim course - weightloss isn't about weight or food, it's about our relationship with it and how we feel.
---
June 2009
Coming up for the summer holidays - now's a great time to tone up and lose some of that winter weight.
Finished and passed Cognitive behaviour therapy course.
---
May 2009
New format website with more info than ever before and case studies to show what can be done.
Currently working with a lady who had a massive stroke. She was suffering acute pain because of the brain damage deep within the brain. She needed to be able to increase her fluids and take her medication, but she had also lost the ablity to swallow. After 3 sessions of hypnotherapy she not only gained her ability to swallow, it was all go for the op, but not only that there were changes in her brain. The MRi scans showed her brain had physically changed.
---
June 2007 - April 2009
Finished training and fully qualified with a Diploma at the Clifton Practice Bristol 2007
CPD - Drugs and alcohol and Mindfulness
---